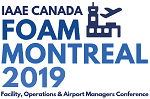 13th Annual Facility, Operations & Airport Managers
(FOAM) Conference
Hotel Bonaventure Montréal
Join your Canadian Aviation Industry peers in Montreal from May 5 - 8, 2019.
IAAE Canada is coordinating three days of informative sessions and timely discussions on the industry issues that matter most.
Hotel Room Registration

Book your room by Tuesday, April 9, 2019 to get the rate of $239 per night, Standard Room – Queen Bed
Book your rooms online in English or French or simply call the numbers listed below
---
In the heart of downtown Montreal, The Hotel Bonaventure Montreal is a true urban oasis. Located over the top two floors of the Place Bonaventure, a 17-storey commercial and business complex, the hotel combines the benefits of a working environment and a resort. An architectural gem in terms of judicious space planning, The Hotel Bonaventure Montreal offers first-class conference rooms for organising large and small meetings, exhibitions and conventions.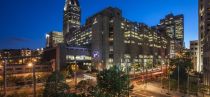 Contact Information:
The Hotel Bonaventure Montreal
900 Rue de la Gauchetière O, Montréal, QC H5A 1E4
Toll Free: +1-800-267-2575
Direct : +1-514-878-2332
Please note: parking is not included