Delegate Early Bird ends April 30th
(win a $500 Travel Voucher!)


Trade Show Early Bird ends March 15th
(just 2 weeks left)

Book Your Room

Join us for Golf


IAAEC 2017 Training Calendar

To make your 2017 Training Planning easier, courses are listed in table format. As dates and locations are confirmed the calendar will be updated and we'll post them here, in our weekly e-Report.

Upcoming Conferences

| Event | Location | Date |
| --- | --- | --- |
| | Winnipeg, MB | Mar 1-2, 2017 |
| | Calgary, AB | June 4-7, 2017 |
| | Halifax, NS | Sept 18-22, 2017 |
| | Campbell River, BC | Sept 24-29, 2017 |

Upcoming Training Courses

Course

Location

Date

(TP312 5th) Aerodrome Standards & Recommended Practices - Just 5 spots left!


Fort McMurray, AB

April 4-6, 2017

(EMT) Emergency Management Team & Committee Training - update to hotel, register online now

Winnipeg, MB

Apr 25-28, 2017

Halifax, NS

May 9-10, 2017

(WAMSCR) Winter Aircraft Movement Surface Condition Reporting & Friction Measurement

Prince George, BC

Sept 26-28, 2017

(WAMSCR) Winter Aircraft Movement Surface Condition Reporting & Friction Measurement

Sydney, NS

Oct 11-13, 2017

Toronto, ON

Oct 16-20, 2017

Please Note: Please take a moment to browse our Training Course Catalogue, If you have other trainig needs please email us. Don't forget to take a look at our Online Training Courses to help keep you current.

Employment Opportunities

Only IAAE Canada Members can see full job postings by signing in to The Forum.

| Title | Location | Deadline |
| --- | --- | --- |
| Vice President, Operations | Alberta | Open |
| Director Public Affairs, Marketing & Customer Experience | Nova Scotia | Open |
| Coordinator, Airline Client Relations | British Columbia | Open |
| Manager of Operations | British Columbia | Mar 22 |
| Airport Duty Manager | Ontario | Open |
| Safety Management System Compliance Officer | Ontario | Mar 3 |
| Manager, Operations Terminal | Ontario | Open |
| Officer, Aviation Regulatory Programs | Ontario | Open |
| Manager, Capital Planning | Ontario | Open |
| Chief Executive Officer | Nova Scotia | Mar 24 |
| Manager, Finance & Human Resources | Ontario | Mar 1 |
| Planning Technician, Aviation | Ontario | Mar 6 |
| Heliport Design and Planning Technician | Ontario | Mar 6 |
| Manager, FESTI Administration | Ontario | Open |
| Manager, Airport Development | Ontario | Open |
| Manager, Financial Reporting | British Columbia | Open |
Association Update
Please join us in welcoming the following New Member in February:
Zachary Berglund, Airport & Project Development Officer, Saskatoon Airport Authority
Jeff Caswell, Supervisor, Regulatory Affairs and Administration, Region of Waterloo International Airport
We are pleased to welcome the following Corporate Member in February: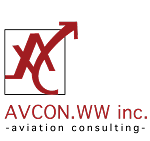 Our Process:
Discover. Plan. Implement. Evolve.
This is the AVCON process. We like to solve problems, eliminate roadblocks and develop sustainable solutions that really work, However the specific way we do this depends completely on the individual client - taking into consideration the issues, the business goals, the workflows, the brand and culture of each organization we work with. Within the framework of our general AVCON pattern, our process is always custom designed to give you the results best suited to your needs, budget and future requirements.
Learn more about our progressive solutions.
Following this process, we generate progressive solutions to your Change Management, Environmental Management, Safety Management, and Training & Quality Assurance needs. To learn more about what we can do for you, visit our Services page.
For more information contact: www.avconww.com
Industry News
NAV CANADA Updates Instrument Procedures at Billy Bishop Toronto City Airport

Updates are planned for both ground-based and satellite-based...

YYC's International Terminal

DIALOG began the nine-year journey with Calgary's International Airport in 2007...

Halifax airport undergoes re-branding

The focus of our new tagline, Connecting Means the World, reflects...

Aviation in Canada: How it all began

Thousands of locals enjoyed the experience. Thus did manned flight come to Canada...