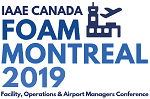 FOAM19
The 13th annual Facility Operations Airport Managers Conference is now over. And the feedback from the 135 attendees was a great event.
An agenda that was diverse from Sean McKim talking on the Internet of Things, to Simon Wong opening our eyes to the future of border crossing; to Nancy Majoulian's lunch talk on health & wellness for airports.
We cannot forget Brad McCannell from the Rick Hansen Foundation opening our eyes and minds to accommodating disabilities in airports.
A great location in downtown Montreal and some even managed to get on the ice at the Bell Centre.
Thanks to our sponsors and vendors for their support. Kudos to our speakers donating their time and expertise.
And thank you to the delegates for choosing FOAM.
See everyone in Victoria next year, and bring a friend.
IAAE Canada