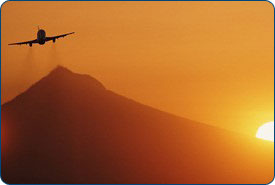 About Corporate Membership
The IAAE Canada Corporate Membership is a wise investment for companies offering products/services to the airport industry.
IAAE Canada provides Corporate Member access to information on industry trends, technology, operations, development, and projects.
Membership allows companies to expand their contacts within the airport management profession.
To become a Corporate Member, please complete the

Registration Form

Membership Renewal
The yearly membership fee is $600.00 plus applicable Tax. (GST/HST #88483-2528)
Exclusive Corporate Member's Benefits:
As an IAAE Canada Corporate Member, your aviation-related company will reach airport decision-makers in a cost-effective manner:
Company name, profile, and web site link will be listed in our Corporate Corner on the IAAE Canada web site.
Corporate logo placement in webpage footers (in random selection).
Members will see your company information on a glossy, full page in our annual report.
Access to IAAEC Members contact information through Members Search.
Discounted rates at courses and conferences.
Membership Benefits:
Canadian Airport e-Report — A report on current airport news in Canada that is emailed weekly. Business opportunities and job listings are also available in this report.
Forum — You will have access to the Members Only area of IAAE Canada's web site, called the Forum. This web site provides information on upcoming courses, conferences, job postings, membership lists & airport news.

IAAE Canada Annual Report — Printed annually and distributed via memory stick to members in good standing. It contains committee reports on activities for the past year including audited financial statements and a list of the Corporate Members.
AAAE Publications — Subscribe to online publications for timely information on activities in the airport and airline industry worldwide: AAAE This Week, Airport Report Today, AAAE Security SmartBrief, AAAE Environmental Watch.
AAAE Membership Directory — Accessible online at www.aaae.org.
AAAE Airport Management Library — Contains numerous reports, surveys and other current written materials. The library can be accessed through the AAAE web site and this web site also provides extensive information on all aspects of airport operations.
Employment Opportunities — All available employment opportunities can be accessed on the web site. You can post jobs to expand your team or respond to jobs posted to find your next career.
Discounts With Companies — Perkopolis is a 100% Canadian owned and operated employee discount program that provides access to exclusive discounts on a large number of products and services across Canada..
Networking — Professional networking opportunities at courses, conferences, the web site Forum and chapter meetings.