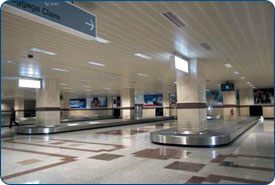 About Student Membership
Student Membership shall be open to students who are enrolled full-time in an aviation related program at college or university.

Proof of enrollment and program end date must accompany application and payment.
Voting privileges are limited as set out by the IAAE Canada Board of Directors.
Student Membership is for the duration of the student's course for the one time Membership fee of $75. Your member priviledges will cease when you complete your school program. You will be able to convert your membership to a full membership after graduation. Just email our office with new contact information.

To become a Student Member, please complete the

Registration Form
The membership fee is $75.00 (plus applicable taxes). GST/HST #88483-2528.
Membership Benefits:
Canadian Airport e-Report — A report on current airport news in Canada that is emailed weekly. Business opportunities and job listings are also available in this report.
Forum — You will have access to the Members Only area of IAAE Canada's web site, called the Forum. This web site provides information on upcoming courses, conferences, job postings, membership lists & airport news.

IAAE Canada Annual Report — Printed annually and distributed via memory stick to members in good standing. It contains committee reports on activities for the past year including audited financial statements and a list of the Corporate Members.
AAAE Publications — Subscribe to online publications for timely information on activities in the airport and airline industry worldwide: AAAE This Week, Airport Report Today, AAAE Security SmartBrief, AAAE Environmental Watch.
AAAE Membership Directory — Accessible online at www.aaae.org.
AAAE Airport Management Library — Contains numerous reports, surveys and other current written materials. The library can be accessed through the AAAE web site and this web site also provides extensive information on all aspects of airport operations.
Training Discount — All members get the discounted rate for all courses and conferences offered by both IAAE Canada and AAAE. If you are not attending, you have the option of lending your training discount to a fellow employee for the purpose of attending courses conferences at the same reduced cost.
Employment Opportunities — All available employment opportunities can be accessed on the web site. You can post jobs to expand your team or respond to jobs posted to find your next career.
Discounts With Companies —Perkopolis is a 100% Canadian owned and operated employee discount program that provides access to exclusive discounts on a large number of products and services across Canada.
Networking — Professional networking opportunities at courses, conferences, the web site Forum and chapter meetings.
All services provided online only.